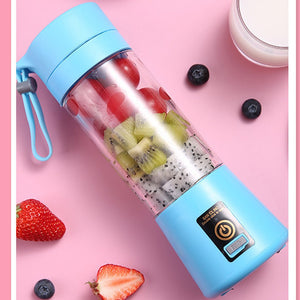 Blend'It™ - Portable Smoothie Blender USB Rechargeable
Sale price Price $29.99 Regular price $39.99 Unit price / per
Everyone knows that life can be hectic on occasion. Sometimes it's even hard to find the time to grab something to eat or drink!

Blend'It™ to the rescue! 

Orders shipping time is between 4 and 8 days on average
All orders ship from the United States
 FEATURES
Food grade material

Built-in strainer
Enjoy anytime and everywhere
2-in-1, blender + bottle
Holds up to 380 ml of liquids
4 powerful blades for instant blending
Chargeable by USB (works with car chargers and powerbanks)

Prepare protein shakes on-the-go

Smoothies On The Go

Take your nutrient-rich fruit and vegetables, plus protein-filled yogurt and milk smoothie delights to the next level with our easy-to-use Blend'It™. It is constructed with a safe insurance framework that keeps the blender from operating when the body and base are separated. 
Built-in strainer

Blend'It™ also features a built-in strainer to help keep your beverages chunk free.
Powerful

Built with 6 blades that are made from 304 stainless steel, powered by a 2000mAh Lithium battery with a USB 5V powered DC 7.4V motor. Blend'It™ can conveniently blend fresh ingredients of your healthy concoction effortlessly in less than 2 minutes as the blade rotates at 22000 rpm. Enjoy up to 10-12 cups of 13oz blended goodness when fully charged. Note: It can also operate while charging.

Convenient & Versatile

Whether at work, exercise center, trips, or any outdoor activity, you can conveniently bring this lightweight blender anytime and anywhere. Aside from utilizing Blend'It™ essentially for shakes and smoothies, you can also use it for infant food, marinades, and mixed greens dressing. Note: It is recommended to cut fruits in 2 cm size before blending.
Quick & Easy Blending

Blend'It™ meets all your blending needs! From whipping up some much-needed power smoothies to refreshing thirst-quenchers, your daily beverages are now made easy with a simple push of a button. The clean up is super easy thanks to its detachable design allowing you to separate the body and base for a thorough wash. Pour a cup of water inside, blend for a couple of moments, dump the remaining water then store.
SATISFACTION GUARANTEED - EASY REFUNDS
If for whatever reason, you decide you are not satisfied, you can easily and quickly contact our helpful customer support to get a full refund. We just ask that you at least give the product a 2 week try and we'll refund you, no questions!